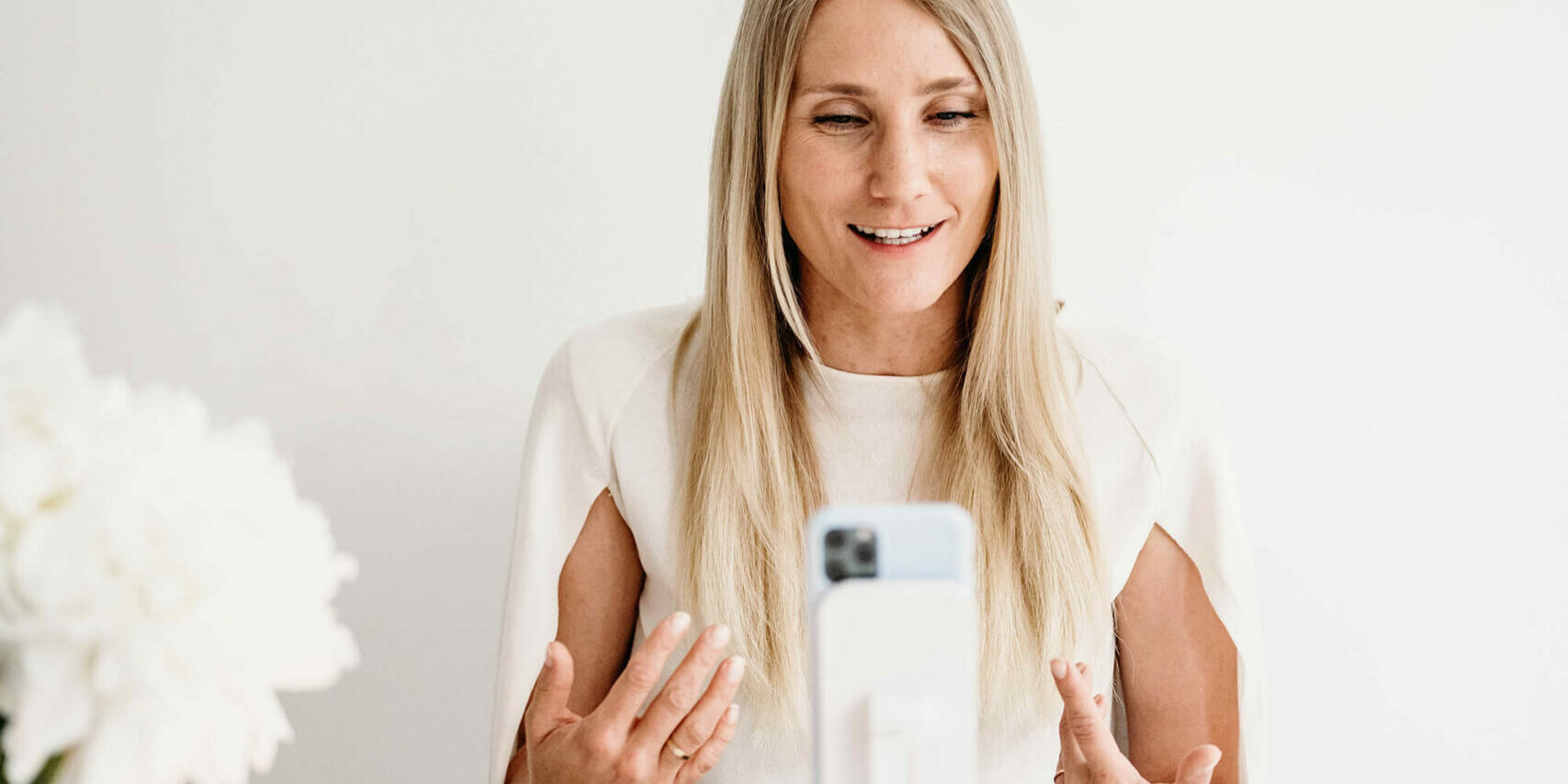 Shownotes vs. Episode Descriptions | A Comprehensive Comparison
There are over 2 million podcasts on the market and over 48 million podcast episodes out in the world. So, with those kinds of numbers, how do you stand out from the crowd and draw new audiences to your podcast? Podcast show notes and episode descriptions can help! Most people are familiar with these episode companions, but many people don't know that shownotes vs. episode descriptions are two entirely different things. 
Shownotes vs. episode descriptions
They're both summaries about each episode, but they have very different jobs and will contain different elements. While one serves as a short episode summary, the other adds value to listeners and can help you rank in SEO results. Do you know which is which? Keep reading to hear the ins and outs of podcast show notes and episode descriptions! 
What are Podcast Show Notes?
So, what are show notes in podcasts? If your podcast is like peanut butter, your show notes could be the jelly that completes the sandwich. Think about it like this: you're not just creating a podcast; you're creating content for listeners interested in your podcast's topics. They're already invested in listening to you and think you have valuable information to share. Show notes are a tool you can use to complement and supplement a podcast episode. 
Why are podcast show notes important?
Show notes enhance the listening experience and add extra value to current listeners. Whenever you record a podcast, additional references naturally come up in the conversation. They might be a brief mention of an episode you recorded three months ago, a Youtube video that inspired you, or a link to a book that changed your business. Not to mention, there's all the additional research that goes into an episode, like your guests' bio, studies you quote, or numbers you reference. While you can't easily bring all those elements straight into the podcast, you can make them available for listeners to access if they'd like to dig deeper after listening.
Podcast show notes are also distinctly different from episode descriptions because they are wayyyy more descriptive and contain more information. Compared to episode descriptions, the show notes are a deep dive into highlights and takeaways, timestamps of where to find the episode's high points, and additional resources on the episode topic. 
Each show notes post will have sections, subheadings, images, and videos and could be anywhere from a couple hundred to a few thousand words long, depending on your audience and preference. They're similar to blog posts built around each episode – and you can post them to your website just like a blog (that's when the SEO magic happens!)
Essential elements of show notes
You can add as much information or images, videos, or multimedia that you think will connect with listeners – it's up to you! I'm a visual learner, so let's look at three of my clients' show notes as examples. 
For my client Darrell Evans, we include bullet points for episode highlights, three powerful quotes pulled from the episode, and a short guest bio before listing additional links.
Here is the example:

We keep things short and sweet for the "Jumpstart Your Instructional Design Career" podcast: an intro paragraph, topics covered, and links.
Here is the example: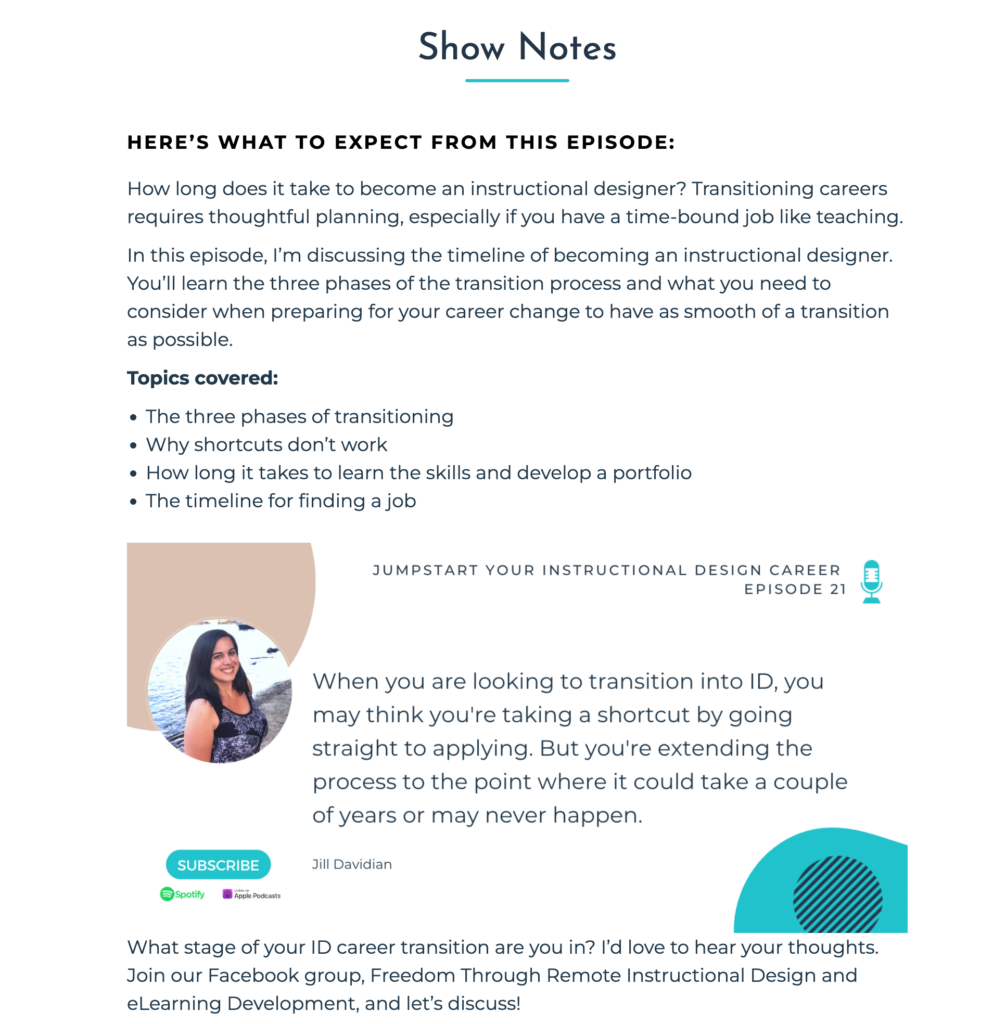 With Rita Hyland's "Playing Full Out" podcast, we expand the content a little more. Rather than just listing the episode takeaways, we expand them into short descriptions that recap the episode before adding links at the end.
Here is the example: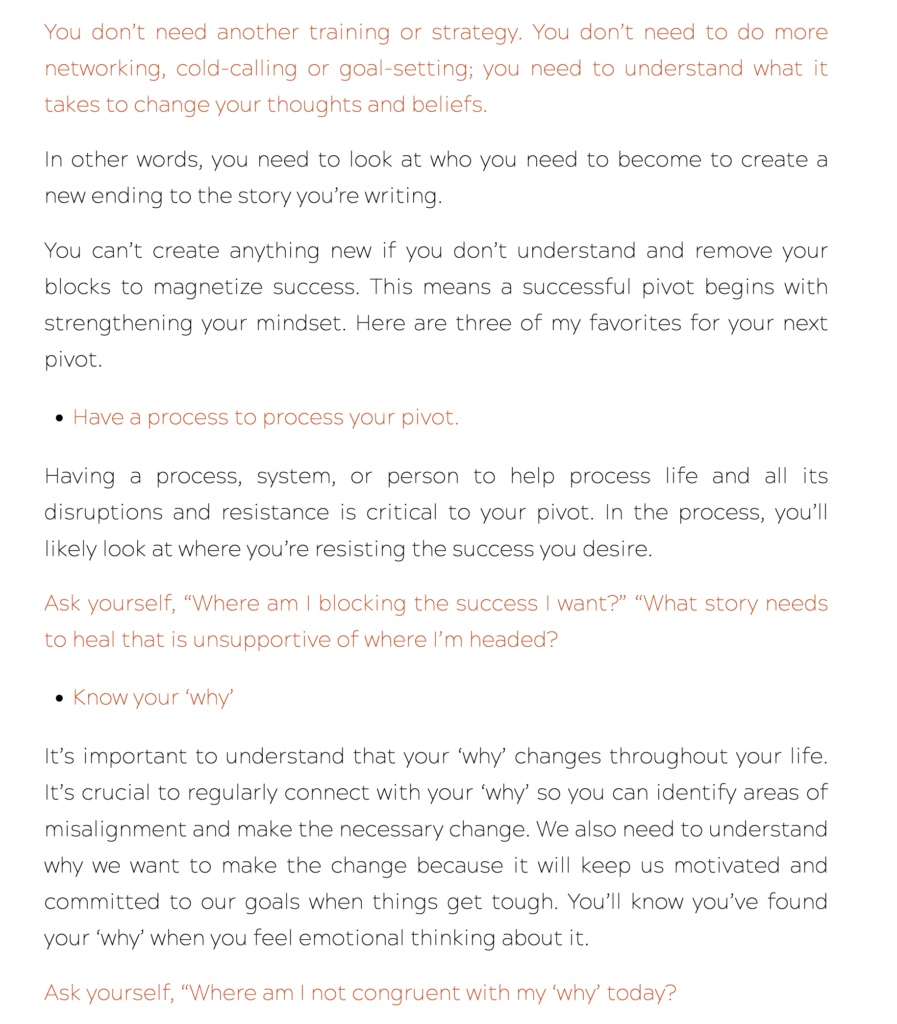 I've also seen research-heavy, deep-dive style podcasts with show notes bursting with photos, Youtube videos, and links. At a minimum, you should include the following elements in your show notes.
Intro, including a hook about the episode that interests people in reading the rest.

Guest section with the guest's bio and why they joined you for this episode.

Lead-in sentence that tells people what they'll find in the rest of the show notes.

Recap the topics covered in the episode and include key takeaways for each section.

Closing paragraph that teases what's in the entire episode and invites people to listen.

Links to social media and website URLs for yourself and your guests, affiliate programs, and additional resources. Include clear CTAs for each link, like "Download my guide to building a business plan."
Benefit of podcast show notes
Since podcast audio isn't very SEO-friendly on its own, adding a section on your website with episode show notes is a way to incorporate keyword strategy into your podcast. The more show notes you add to your website, the more chances you have for new listeners to find your podcast through organic Google searches. Plus, show notes build value with listeners by listing all of an episode's resources in one convenient place.
7 Places to include keywords in podcast show notes
The post title

In the show notes, URL or slug

In some of the subheadings on the page

In the intro paragraph

In the summary

Sprinkled throughout the rest of the copy

In image descriptions & alt text
What are podcast episode descriptions?
Podcast episode descriptions are summaries of each episode, giving listeners a sneak peek into what the episode is about and helping them decide to listen. They should always be short, to the point, and attention-grabbing. 
What's the benefit of episode descriptions? I think of them like a movie trailer in written form 🙂 You only want to include the broad strokes of who the guest is and what content, themes, and takeaways are – and you'll want to say it in one to three paragraphs. Include a link to the full show notes to make it easier for people to dive deeper into your episode if they'd like. 
Usually, you'll see individual episode descriptions in podcast listening apps alongside the episode. Here's an example from my client's podcast, "Life, Love, and Leadership for Physicians." The episode description recaps each episode in just a few sentences, lists a few reasons to listen to the episode, and then provides a link to the show notes. See? Short and sweet! 
See the example:

How to write compelling episode descriptions:
Keep it short and engaging

Use attention-grabbing language

Highlight the key takeaways and guest information

Include a short paragraph

Link to the full show notes (always lead people back to your website!)
What is the difference between podcast episode descriptions and show notes?
Show notes are a detailed and deep look inside an episode, including all the links, timestamps, and information about guests and topics included in the episode.

Show notes can be on the longer side. Depending on the content of your podcast, your style, and what you'd like to share, they can be a few hundred or a few thousand words long.

Show notes enhance the listening experience.

Episode descriptions are the "just the facts" version: a summary of the content, themes, and takeaways.

Episode descriptions are always concise. Aim for a few sentences, up to three paragraphs maximum. 

Episode descriptions are meant to draw listeners in and get them to press play on an episode.
Podcast show notes and episode descriptions are essential to podcasting success!
Show notes enhance your listeners' overall experience, providing additional information and resources and increasing your SEO visibility. Meanwhile, episode descriptions are your chance to elevator pitch each episode to potential listeners. Make the most of your podcast show notes and episode descriptions to entice new listeners, add value to current ones, and up your SEO game! 
Don't have time to do it all yourself? Book our monthly podcast management services! We'll cover all the details, ensuring your podcast show notes and episode descriptions are expertly crafted and tailored to your audience's needs. Schedule a call now!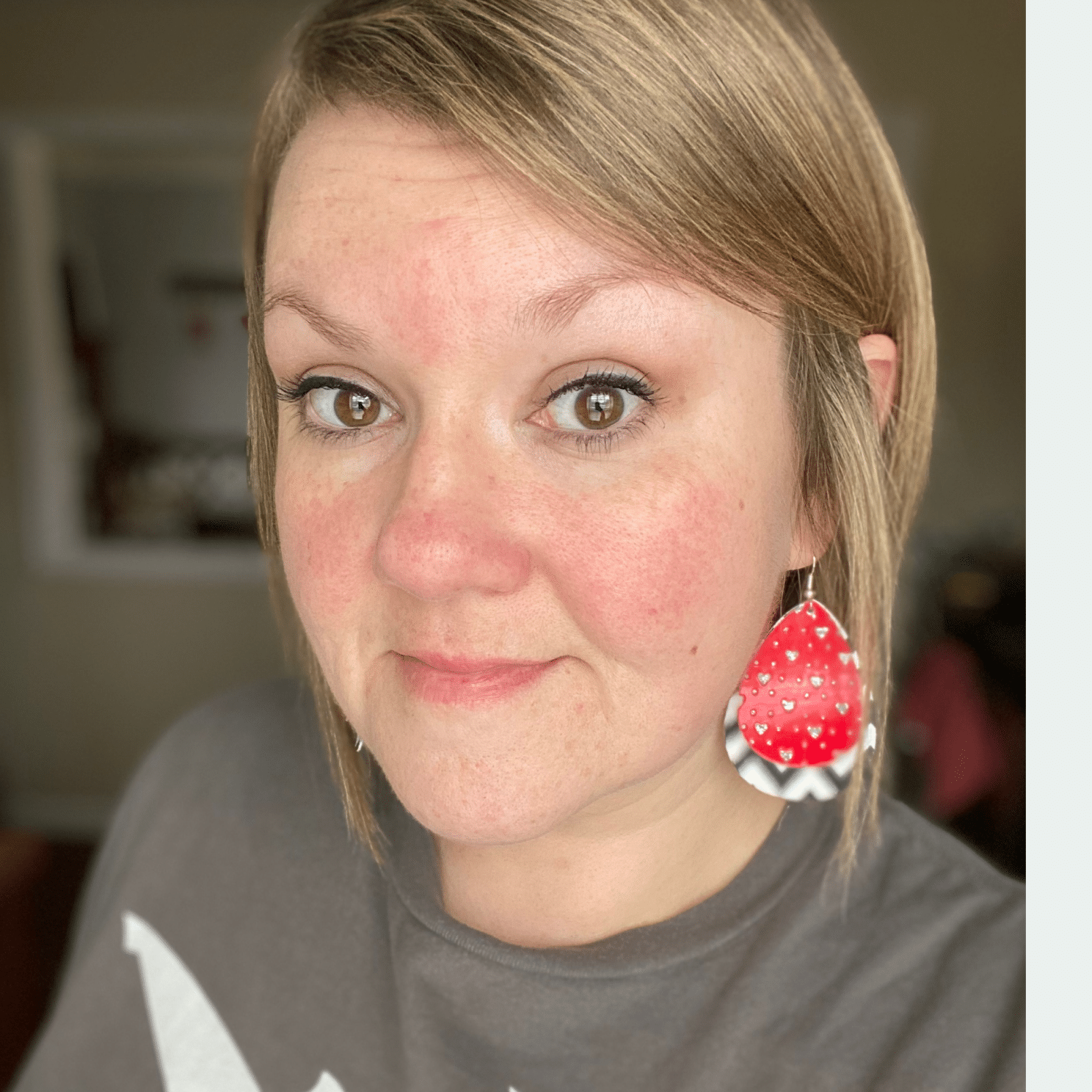 The only thing I love more than binge listening to podcast, is helping you publish a podcast you love!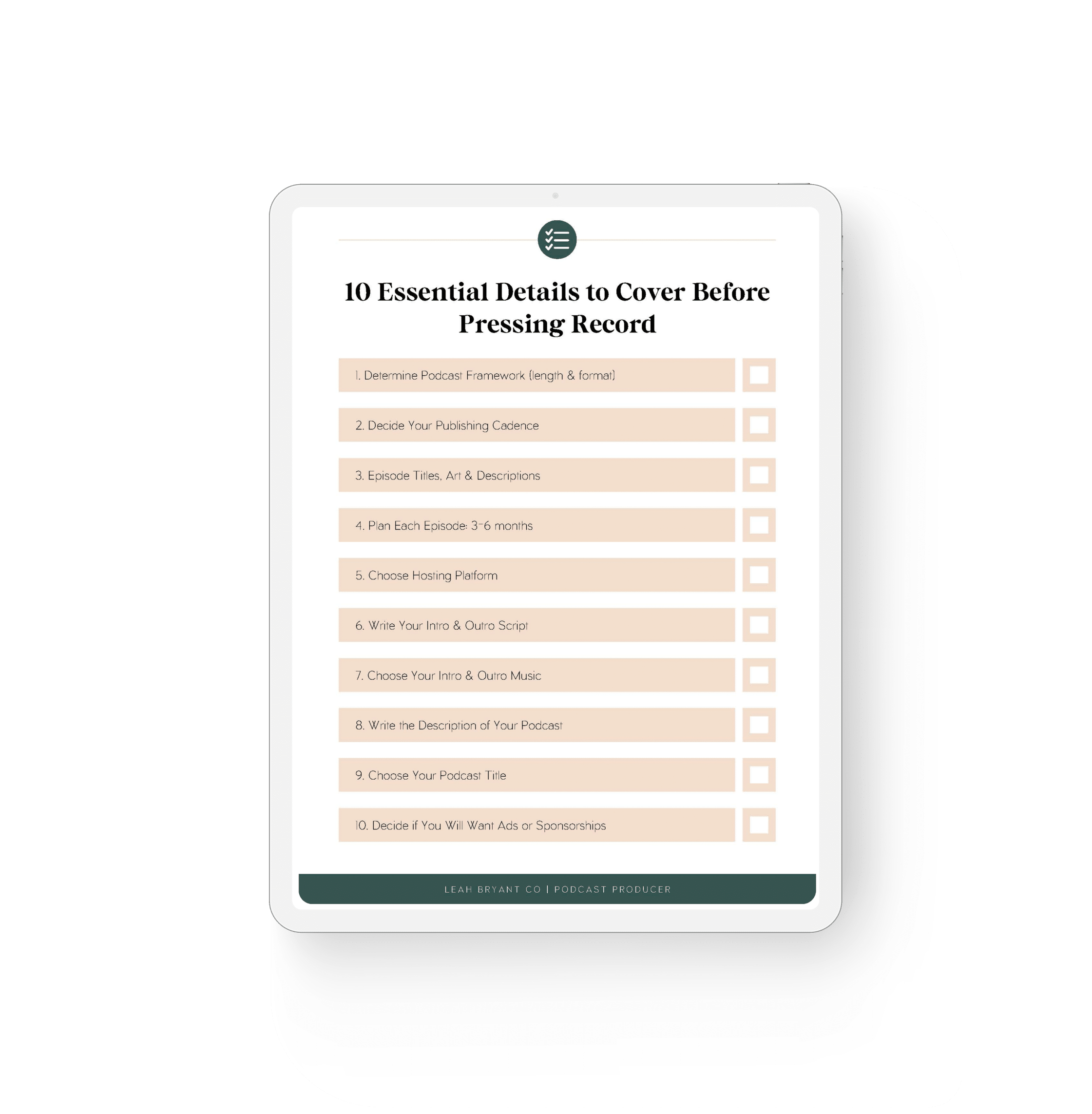 Grab your Podcast Roadmap