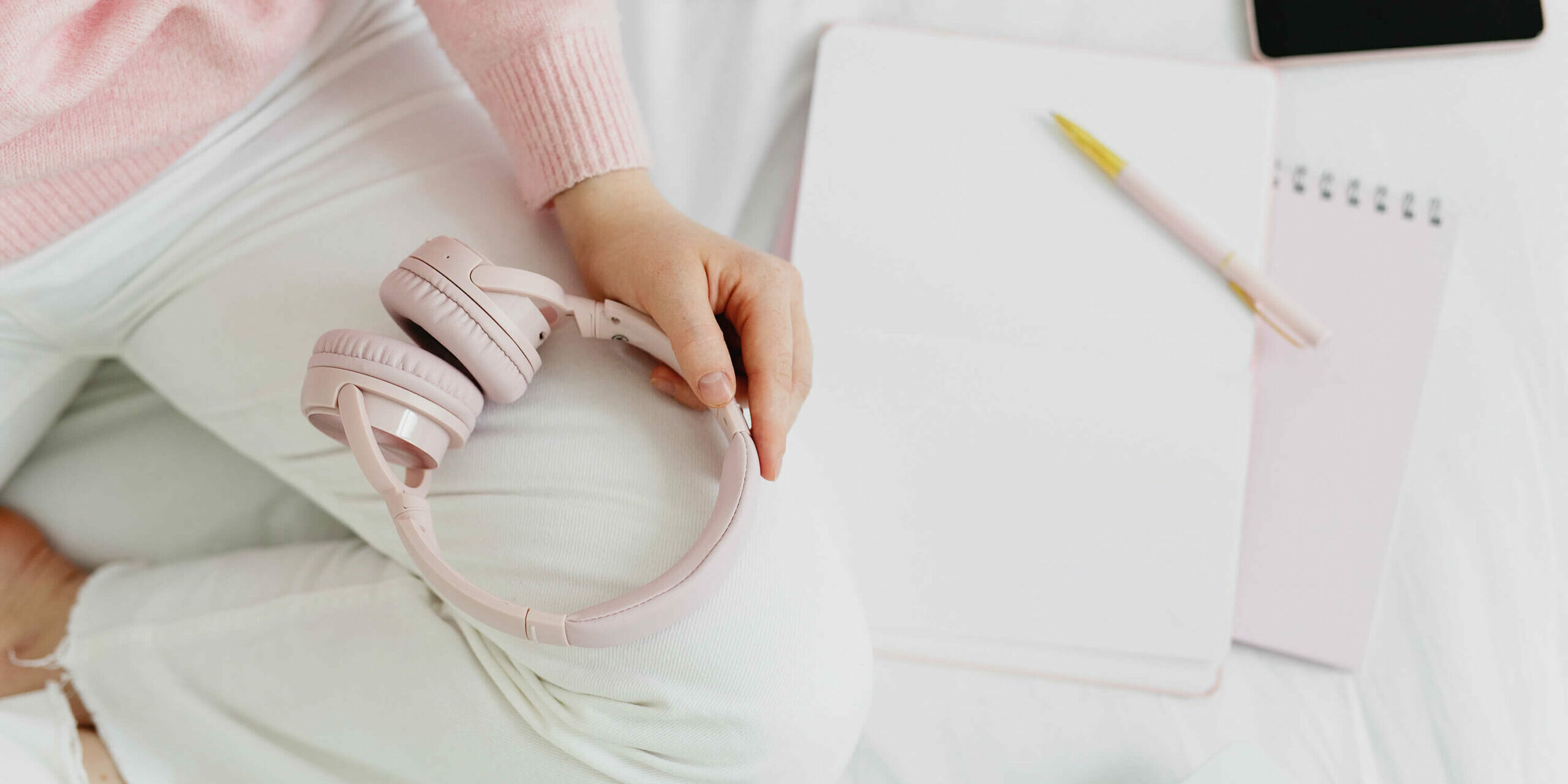 How to Choose the Best Podcast Intro Music
Podcast intro music is one of those small but mighty podcast details that can differentiate your podcast from all the other ones out there. When you're listening to a podcast, you might not even notice it happening, but the music can set the tone and convey an emotional message – and that's why it's so, so, so important! If you choose the wrong tune, you could send a totally confusing message. The last thing you want is to be the podcast blasting party music when you're talking about high-interest rates. 😣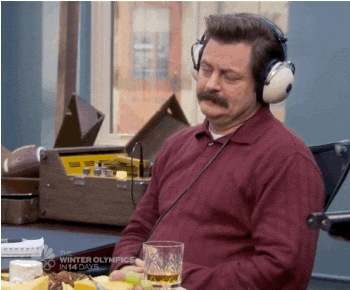 Music has a significant role to fill for your podcast! You'll want it to appeal to your audience and help build connections while enhancing their overall listening experience and creating a memorable impression. 
Obviously, you want to hit the right note (see what I did there?) with your podcast intro music. So, let's talk about podcast music: what it can do for your brand, the different places music can go in each episode, and how to choose the perfect genre. We'll also cover all the legal best practices and where you can find the best free podcast intro music (without breaking any laws). 
The role of podcast music
Podcast music can fulfill a surprising amount of roles for your show. It can set the emotional tone for listeners, break up each section of your podcast, and make an overall more engaging experience for listeners. 
From the intro music alone, people will immediately understand the vibe of your show and innately form an expectation about the kind of podcast they're in for. It's the first thing people will hear each episode, creating a consistent experience that builds brand know, like, and trust.
Does a podcast need intro music?
Whether you realize it or not, there are certain places we all expect to hear music in a podcast, or else things might sound a little off. At a minimum, you'll want intro music at the beginning of the podcast. It might be jarring to open the episode by jumping straight into talking! 
How long does podcast intro music need to be? Not that long! About 30-60 seconds will get the job done.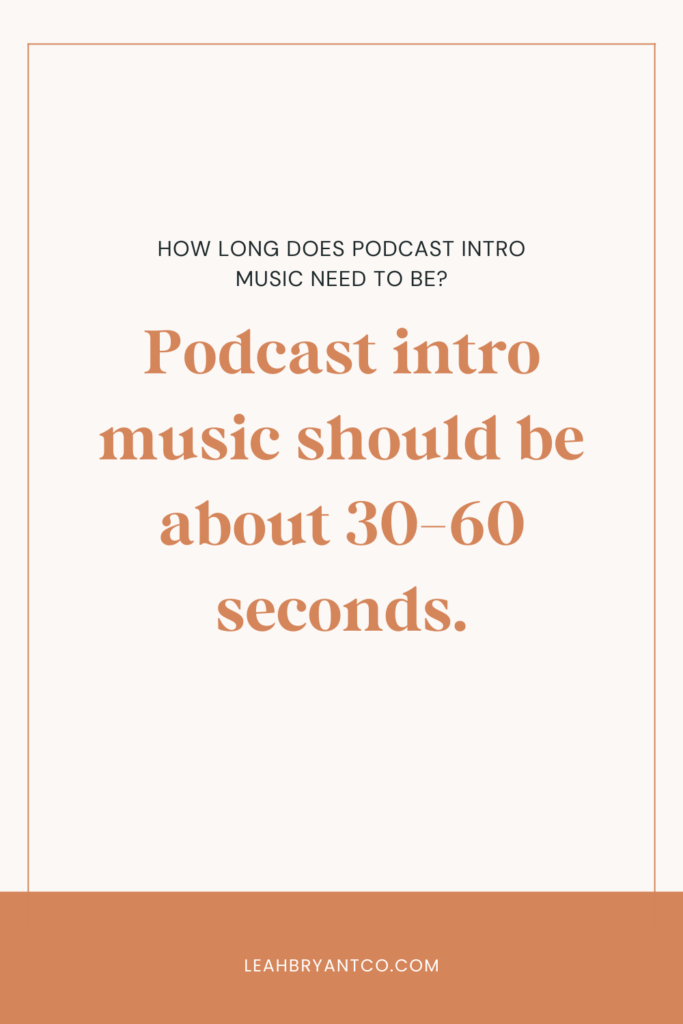 Where to use music in your podcast
While music isn't just for the introduction, you don't want to go in with a heavy hand and just put music all over your podcast. Use it wisely and sparingly! I like to use different songs or parts of the same song to brand various features within a podcast, like news, interviews, or ad breaks. 
You can also try a little background music during your podcast to create a mood or ambiance – that works exceptionally well for storytelling-type formats! And, of course, you'll want some outro music to play at the end of your podcast to let people know the episode has wrapped up. 
Choosing the best genre for you
First, ask yourself what music would resonate the most with your audience AND your theme. Is your audience younger, or are they nearing retirement? Are your listeners CEOs or are they stay-at-home moms? 
Do people listen to your podcast for serious advice, or do you want them to feel more like they've come over to hang out over coffee? 
In general, specific genres "feel" a certain way and appeal to different age groups. For example:
Instrumental music usually sounds mature, refined, and professional. 

Classical music feels educational or historical – all ages feel smarter just by listening to it!

Pop music skews younger and can make you feel charged up and optimistic.

Rock music makes a rebellious impression and comes off with some attitude (though the right person could even make it work for a business podcast!)

Jazz music feels mellow and relaxing and gives the impression that everything is calm and controlled.
Ethical and legal considerations for Podcast Music
So, you can't just grab Beyonce's latest single and pop it into your podcast, or else you'll be in trouble! Using copyrighted music without permission and paying the artist is a big no-no that can get you kicked off of the major podcasting services. Plus, if you violate copyright laws, record companies could even sue you over it (yikes!) 
The bad news is that pretty much all music out there is subject to copyright, even if it's not very famous. The good news is you still have plenty of (totally legal) choices for podcast music. You just have to ensure you have the right licensing for your music. 
If you have your heart set on a specific piece of music by a friend or independent musician, you might be able to get permission to use it. But the worry-free way to find music for your podcast is to use a royalty-free or stock music service. Some are totally free, while others require a small fee. Two of my favorite podcast music services are Pond5 and Audiojungle.  
But my most favorite way to get podcast music is to commission a unique piece just for you! Leah Bryant Co. actually works with a composer who writes custom-licensed music for our launch clients – how cool is that?
Test your music with listeners
If you need help deciding which podcast music to choose, you can always test your music with listeners and poll your audience to get a feel for what they think. It can be an entertaining way to build community and build up your upcoming launch with your existing social media audience.
Choosing your podcast music is important!
After all, your podcast intro music is the first thing people will hear when they tune into each episode. But with the right approach, you can find and use music that enhances your message and engages your audience. And remember, music is something that can be changed! Once you pick something, it doesn't mean that it has to be frozen that way forever.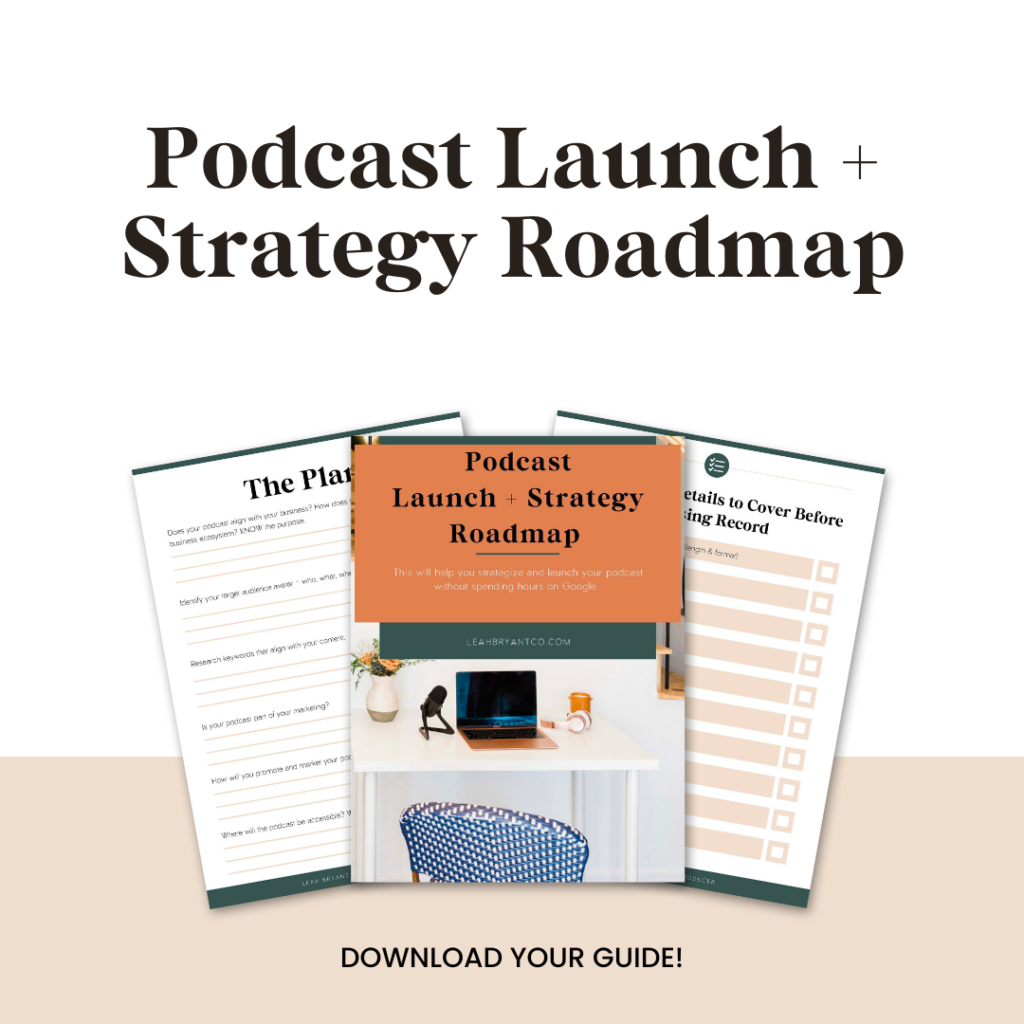 Want the complete guide on how to set your podcast up for success? Download our free Podcast Roadmap to learn how to launch your podcast like a pro!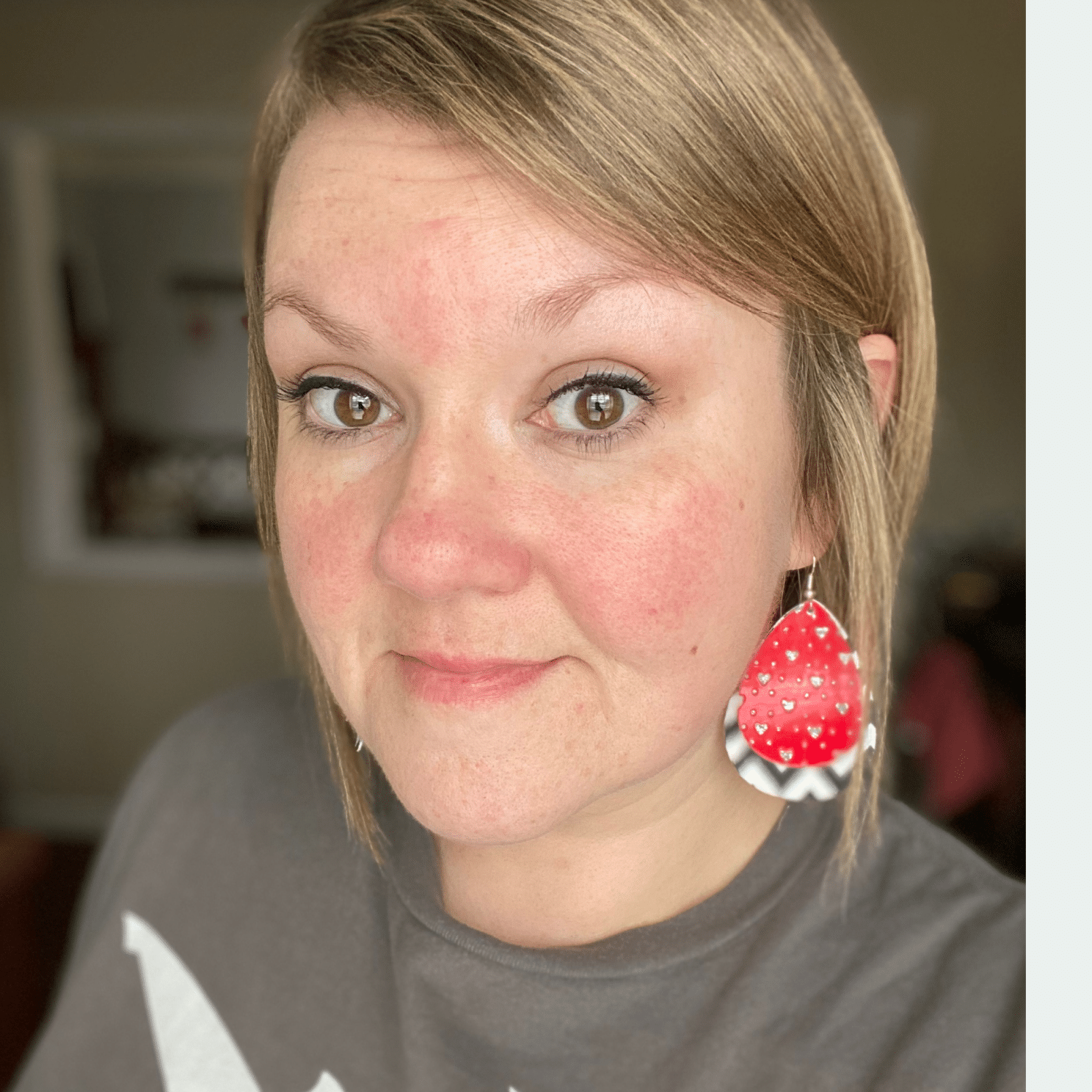 The only thing I love more than binge listening to podcast, is helping you publish a podcast you love!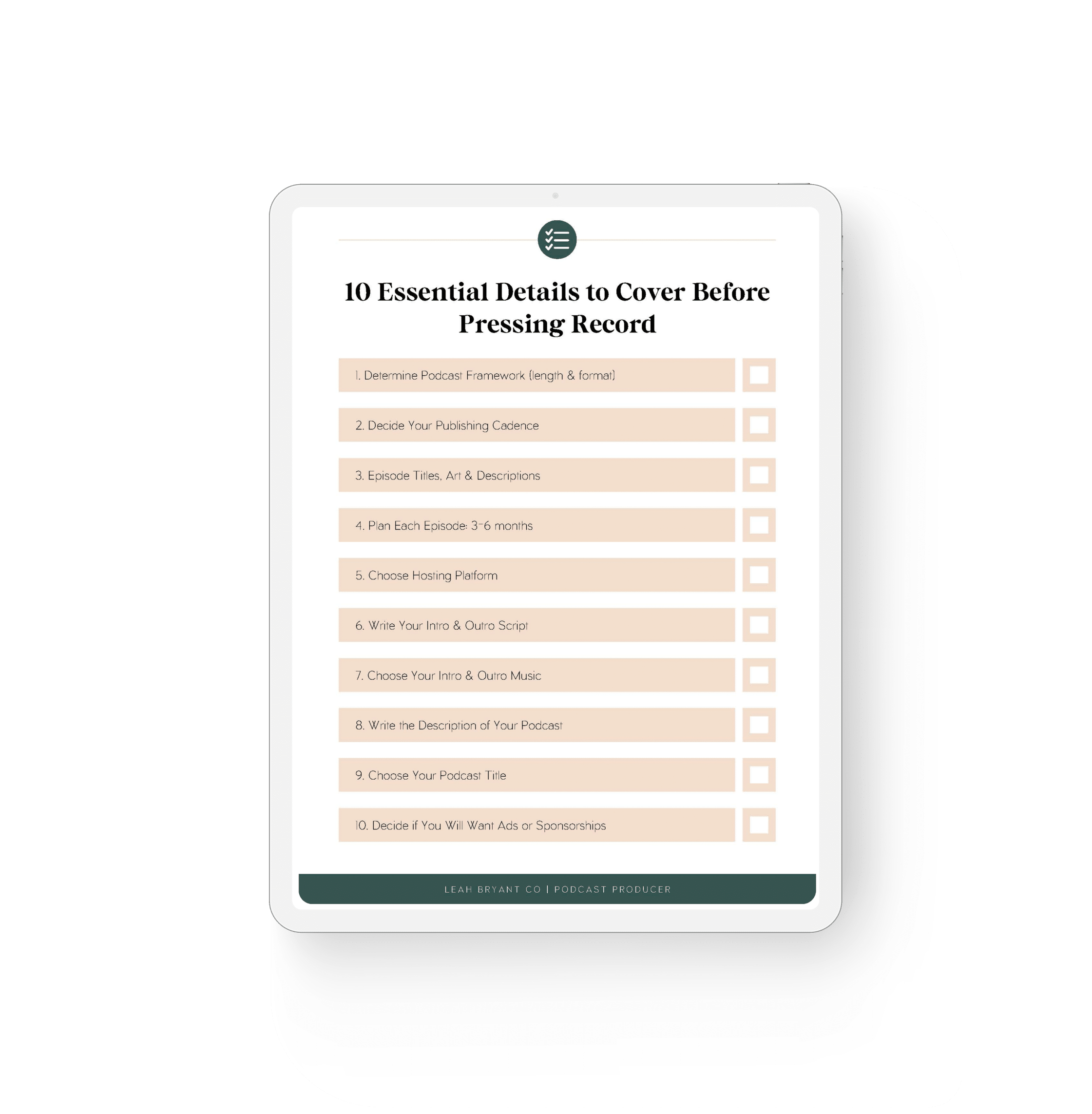 Grab your Podcast Roadmap