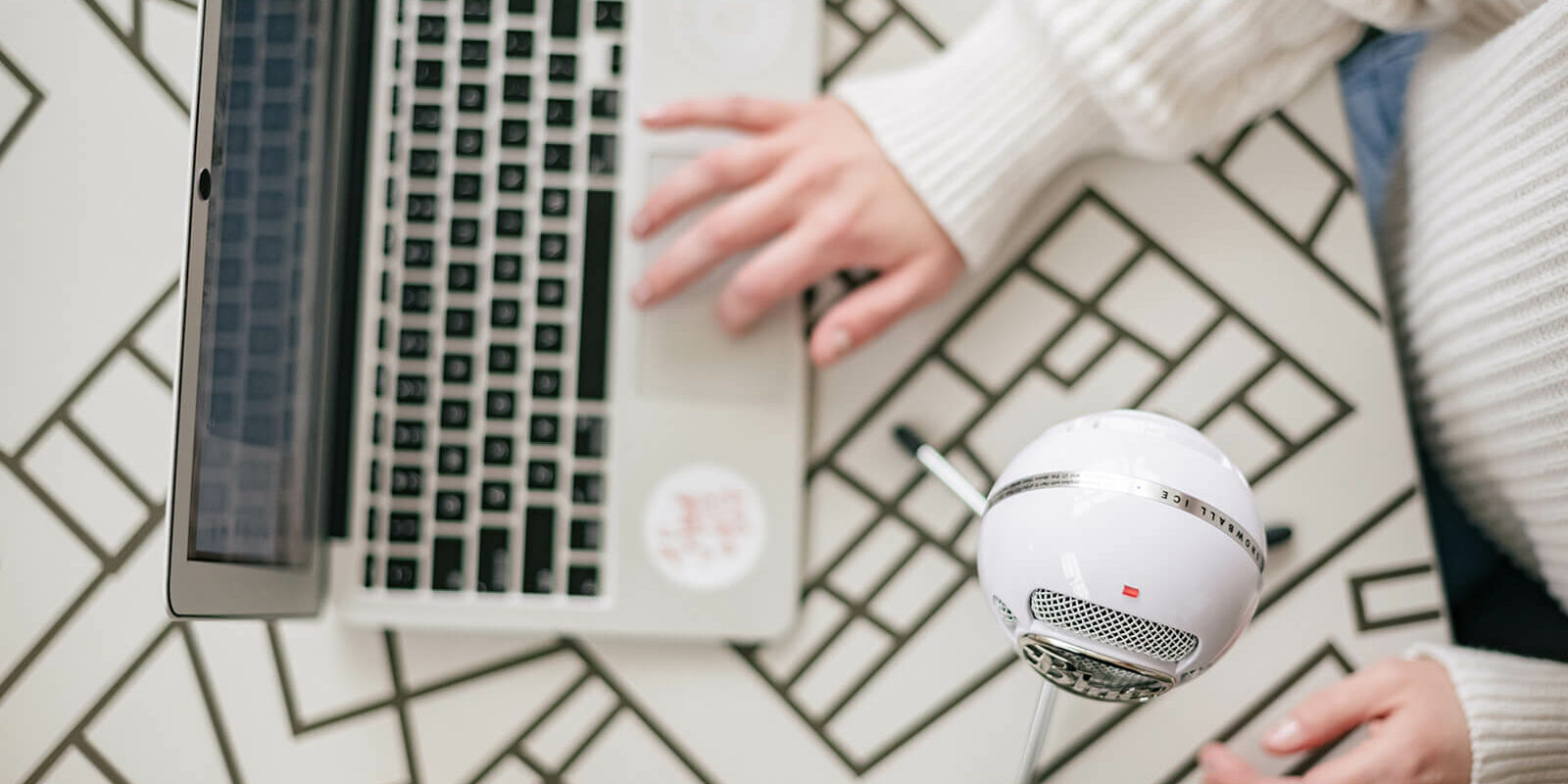 Case Study Marketing Strategy for Podcasts
Nothing creates connection quite like a case study. There's the bonding between the reader and the "guide." And then the reader and the "case study subject." Everyone is getting to know each other, forming attachments over business things, personal things, or just—life things! Kinda sounds similar to podcasting, don't ya think? Which is why… case study marketing is the perfect strategy for your podcast!
And when it comes to the order of operations—you've got options. Before we get into that, I should back up a bit…
What is a case study?

A case study is a deep dive into one person's experience working with a service provider, company, or product. It's an expanded version of a testimonial.
Testimonials are the movie trailers. Case studies are the full films. 🎥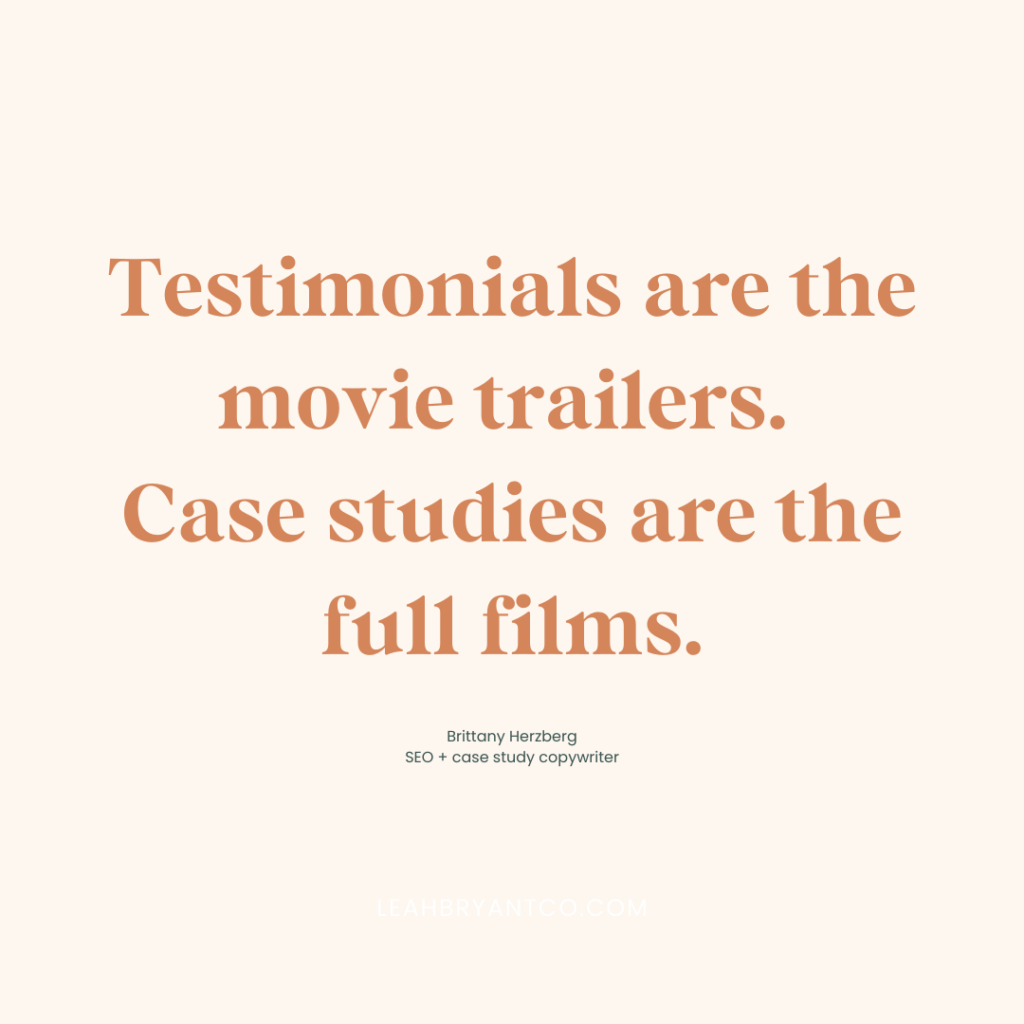 Case studies allow the reader to immerse themselves in the story that's unfolding (very similar to watching a movie 😉). 
When someone feels deeply connected to you and/or your clients, they become more invested. They hang on to every word you say, keep scrolling down the page to read more, and stick around longer.
Put simply, a case study allows for more! More details, nuance, and explanation. It's a time when you get to showcase not only your clients and their successes but your framework gets a time to shine too!
Case studies can be shared in a variety of ways:
Vlogs

Blog posts

Offer menus

Podcast episodes
Remember I said the order of operations can vary… 
These are the easiest 2 ways to make a case study that you can market on your podcast:
Bonus points if:
A client discovered you from a podcast interview

Your client booked a podcast because of something you did for them/they learned from you (Read that again dear copywriters, show notes writers, podcast producers, course creators, & coaches! ⬆️)
You can record a podcast about a case study

If your goal is to: get more leads, increase conversions, or grow your email list—this could help you!

What you'd do in this workflow, is direct traffic from the podcast to your site (link to the blog in the show notes).

You can link out from case study to podcast

 

If your goal is to: increase listeners of your podcast or build your authority—this could work for you!

In this workflow, you're sending traffic from your site to your podcast (link the podcast in the case study blog).

A bit more on how to actually bring that case study to life ↓↓↓

 
How do you create a case study?

There are a few basic steps to creating an impactful case study. 
1. Choose someone to feature.

Unsurprisingly, you will first want to identify whose story you'd like to feature. This can be one of the hardest things for business owners to figure out! If you're feeling like that too, you're not alone.

Try working through these prompts to identify a great subject for your next case study:

→ Something stands out about their internal or external "wins." (What have they accomplished since working with you? How do they feel after learning from you?)

→ Their story is your method or belief system in action! (What part of your framework are they living proof of? What value of yours does their story showcase?)
→ There is SO much data! (What are their email open rates? Conversion rates? How many students have they gotten from this launch? What are their podcast analytics now?)
→ You have a gazillion amazing quotes from them! (Don't sleep on the people who are already out there evangelizing for you.)
2. Gather all necessary materials.

In addition, you'll want to think into the future about what you want this case study to do for you. Let's say you want to use this story to grow your podcast—specifically to attract more listeners. You'd want to make note of that because you want everything in the case study to direct readers to [listen to the podcast]. Identifying this next step you want someone to take also helps you figure out what other links, stats, & information to include in your case study.
3. Write or record!

Choose if you want to record the podcast episode or write the blog post first.

…I'm suggesting a podcast episode and a blog because both:
→ increase your visibility
→ support your SEO strategy
→ boost your topical authority
→ work for different learning styles

They also offer organic marketing to each other. The blog can introduce readers to your podcast and vice versa!

Check out this interview with Brittany Herzberg & Rick Mulready about writing case studies that actually sell!
4. Promotion time
Now that you've got the podcast recorded and/or the blog written → it's time to tell the world about it! Let the marketing magic begin. 🎉

This is a short list of exactly how you can get more exposure for this case study:
→ send readers from the blog to your podcast
→ send people from the podcast to the blog
→ feature your case study in a weekly email
→ link to your case study (episode or blog) on your site
→ share the case study on social (Reels, Stories, a carousel)
For a more detailed case study workflow ↓
Examples of podcasts & case study marketing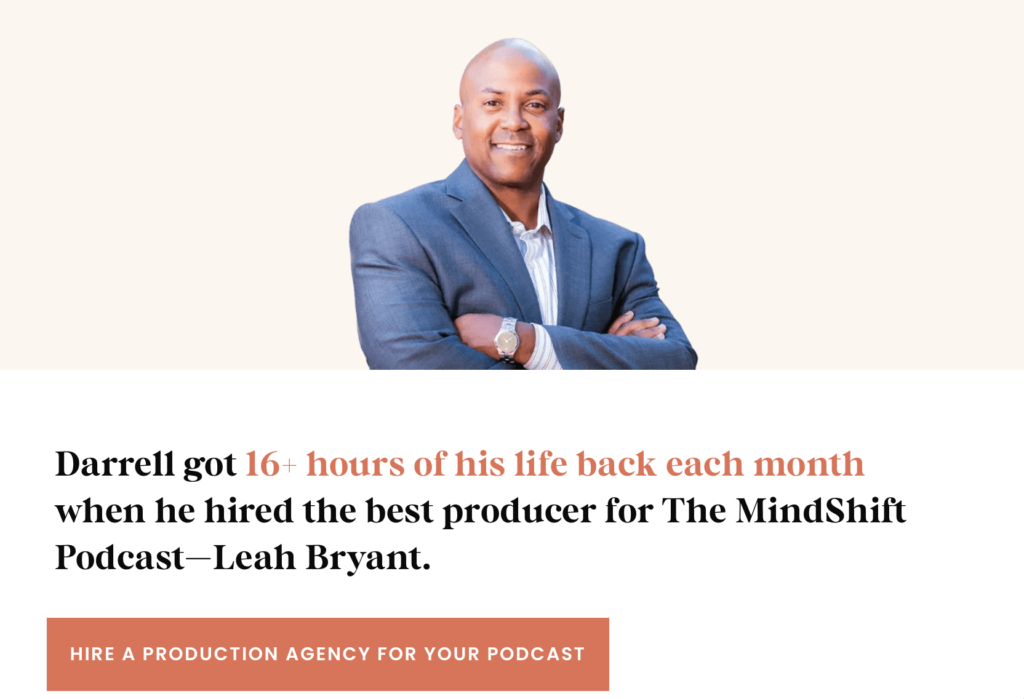 Leah reached out to collaborate on a case study. I was so excited! We were able to feature her client, Darrell, & dive deep into what he loves about working with the Leah Bryant Co. podcast production agency.

There was no podcast episode about this case study. However, what you'll notice is that by Leah having an entire article dedicated to The Mindshift Podcast—it gives Darrell extra exposure (read: organic marketing for his podcast!). 
You know we are big fans of Riverside up in here 🙌. So I couldn't resist adding this blog to the list! What stands out to me is the smart & eye-catching use of client quotes. And! Just the sheer number of case studies they have on their site.

Even if someone landed on this page & decided not to read anything—they've still subconsciously checked off the "Is this person/company trustworthy?" In their mind it's like, "Of course they are! Look at all these happy clients!"
Cubicle to CEO (
blog
)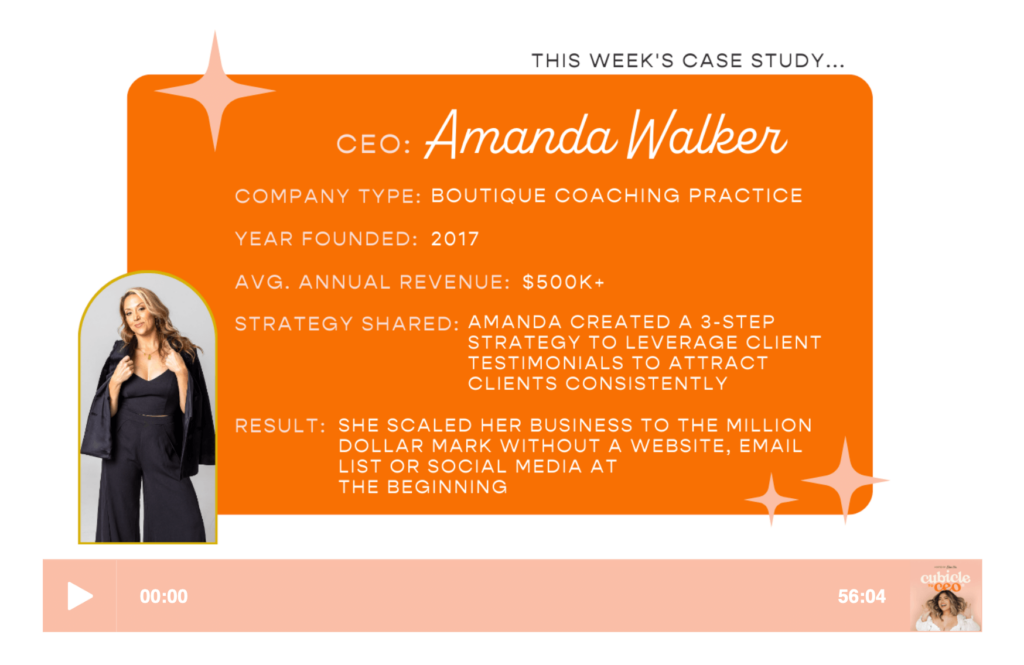 Check out how smart this case study blog post is—seriously! Please draw your attention to these 3 things:
The blurb at the top that acts as a case-study-in-a-nutshell preview of the blog.

This hooks readers & let's them know what to expect.

The links to the podcast episode and the YouTube video

(which are embedded & listeners can simply click on from the post).

The list of what's not included in the blog post version of the case study

(you know, to entice people to listen to the podcast or watch the video).
A case study sounds amazing, but I don't have time to write this! ↓
[HIRE OUT THE CASE STUDY COPYWRITING]
How do you use a case study as part of your podcast marketing strategy?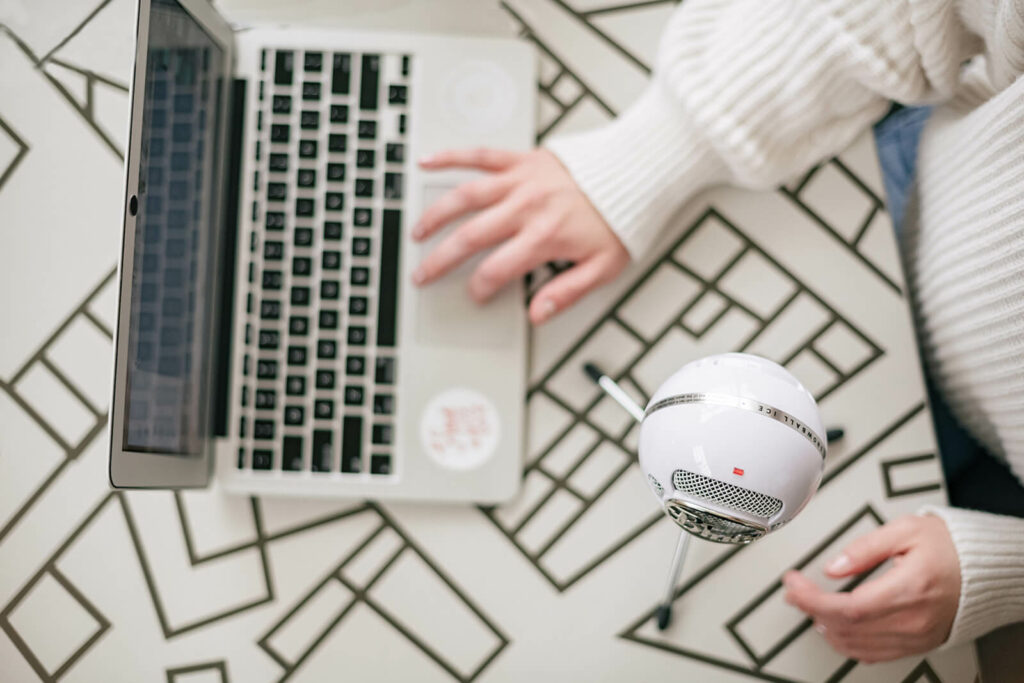 Everywhere you turn online there's some guru or marketing expert practically shouting at you to "post content consistently!" 
Content can take the form of: 
→ podcast episodes
→ social media posts
→ YouTube videos
→ blog articles
But if all you do is focus on cranking out [insert your content type of choice] consistently, that doesn't automatically mean the quality is there and it doesn't indicate that there's a marketing plan in place. Having a strategy is about so much more than just getting the podcast, blog, or "thing" out there.
A marketing strategy is about having a goal that drives all your content creation and promotion efforts.
The reason case study blogs & podcast episodes work so beautifully to promote your podcast boils down to:
SEO (search engine optimization)

: there are keywords woven into your transcript

and

your blog post—whether you realize it or not! SEO is one of the best known forms of organic marketing. It allows you to show up as the answer to a Googled question!

Sharable content

: whether we're talking blogs or podcasts these are 2 types of content people love saving, referencing, & sharing.

Storytelling

: as humans, we're hardwired to look for & love stories. Don't try to fight it. 🤭 Bonus points for podcasting though because there's just

something

about being able to hear someone's voice that makes you feel more connected to them.

Social proof

: case studies are BIG social proof marketing pieces. They live to highlight you as an amazing [insert your profesh title here]. But the best thing—it's someone else who's doing the talking! Case studies can do the selling

for

you, friend.
Once you have this case study created, What are you going to do with it? What do you want to do with it? How do you want it to impact your business or podcast? Those are important questions to ponder prior to even figuring out "who" you want to feature in the case study story.
If you decide to record a case study podcast episode, be sure to check out ↓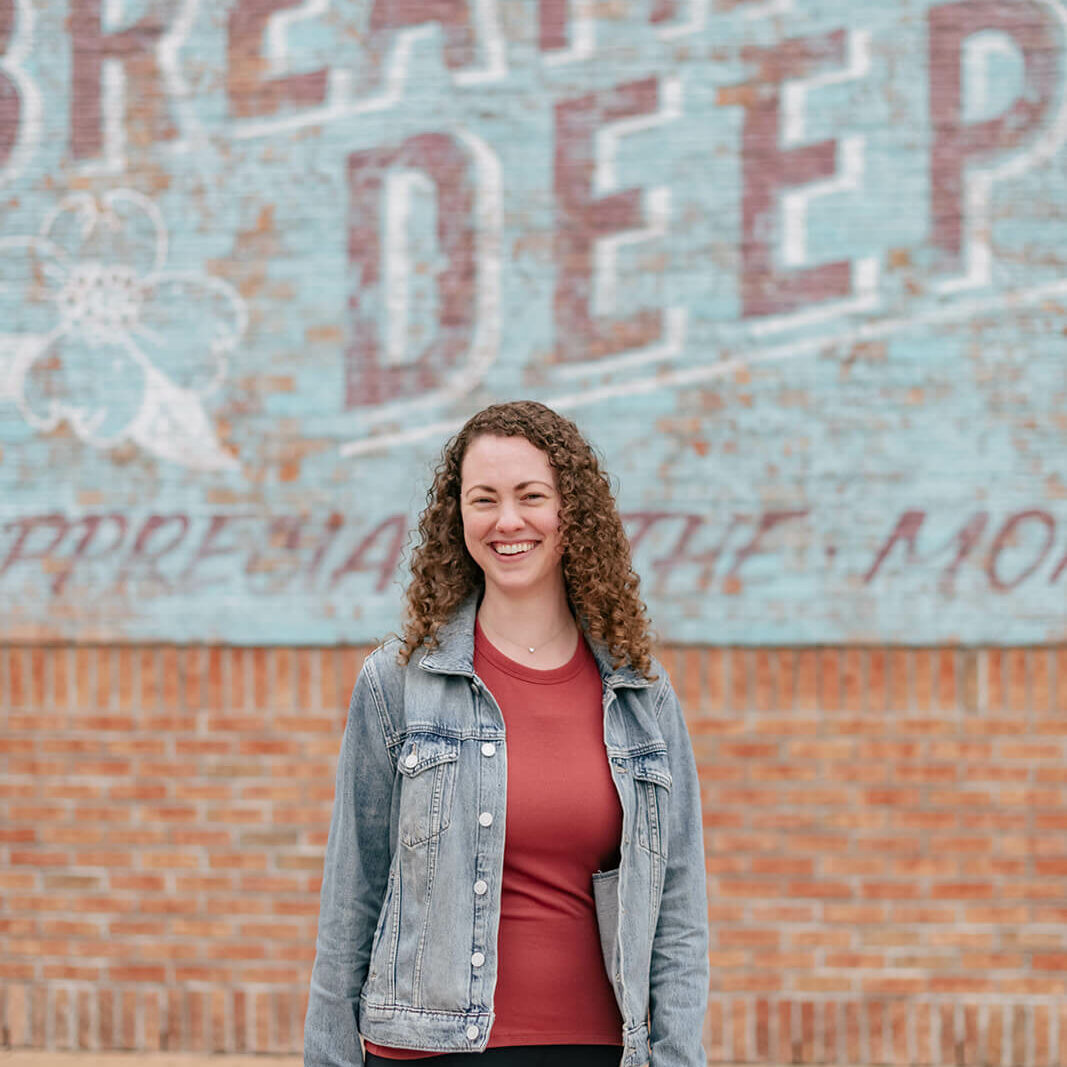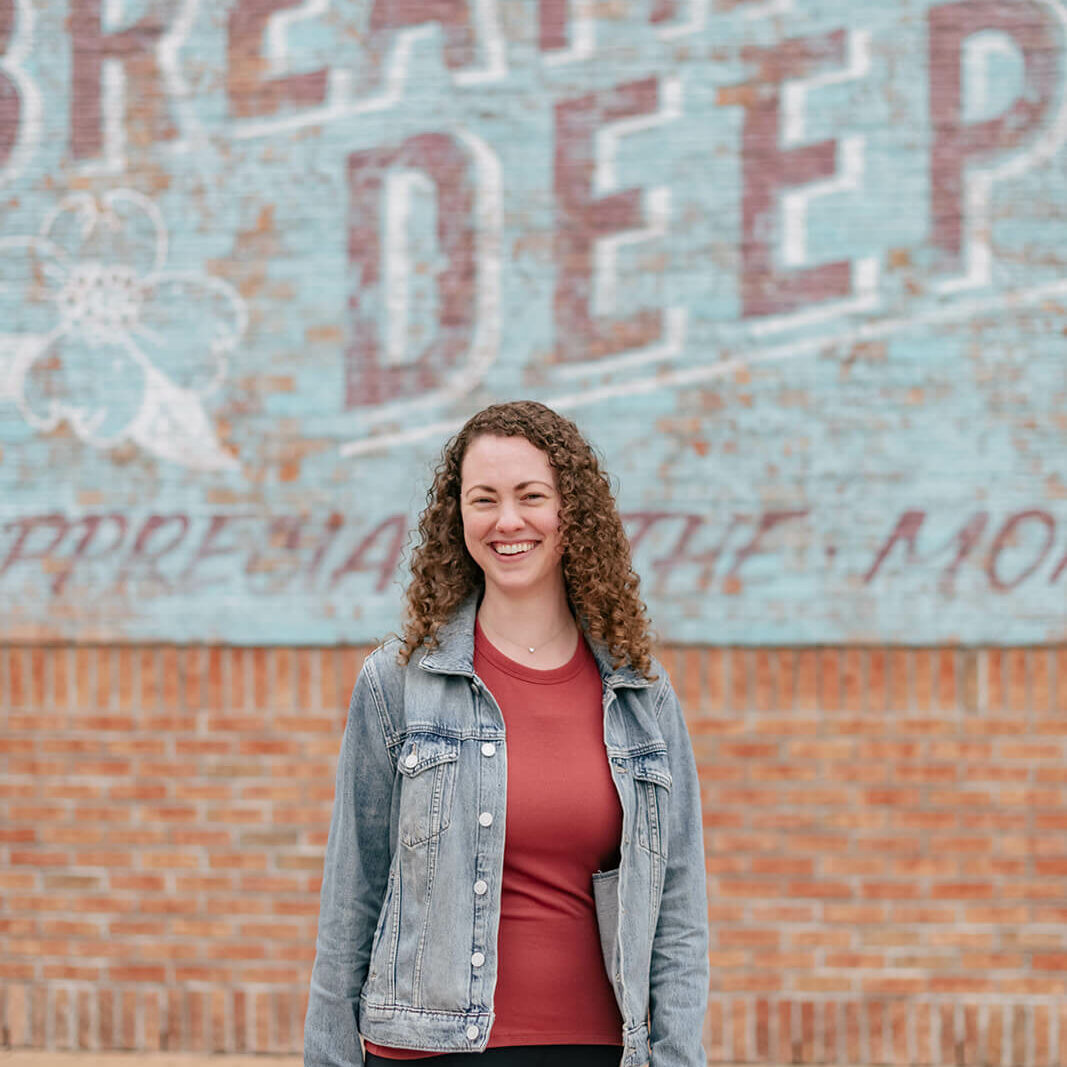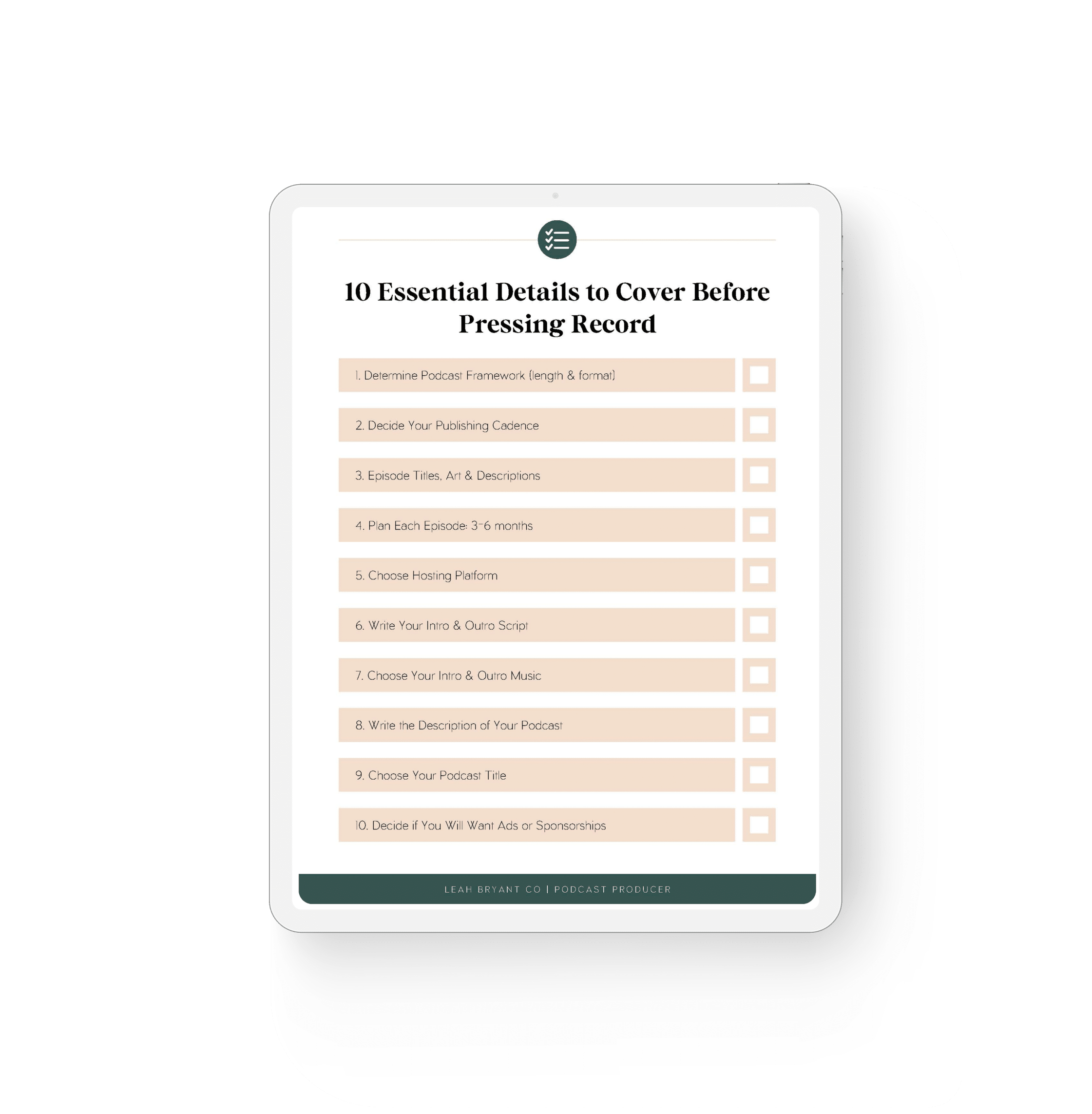 Grab your Podcast Roadmap